A Savage Tale & A Love For Nature
The Savage River Lodge is named after the Savage River State Forest, which is named after the Savage River. But where did the name "Savage" come from? It's not because there are savage beasts or a savage way of life out here. It comes from a man named John Savage, one of the first surveyors to the area in the late 18th century. The tale goes that his survey team lost their way and started to run out of supplies. Eventually all of their food was gone. John, seeing the others were going hungry, felt he was a hindrance as the oldest of the group and offered himself to be eaten. Just when the surveyors were about to turn to cannibalism, another team with fresh supplies arrived. It was decided that the river would be named after John Savage for his willingness to sacrifice himself for the others.
Of course there is more to our history than just our name. This story happens in the not too distant past and begins with a meeting. Fate, some would say. It brought two people together who agreed that all anyone needed was some time to enjoy nature. Mike and Jan met in 1989 at a conference at the University of Chicago. They met on the last day of the conference on the last shuttle bus back to the hotel. It was the beginning of a love story -- from then on the two kept in touch and their relationship grew long distance from Santa Fe, New Mexico to Hagerstown, Maryland. As their relationship grew, so did their ideas. They created a management development and business consulting program, Nature of Business, founded on what nature can teach us personally and organizationally. As they explored to find the perfect venue to hone this philosophy they found great nature locations and great accommodations, but not a single location that had both. Finally, the conversation began. "Why don't we just build it ourselves?"
With that simple question began the building of a dream. Mike and Jan acquired the land in 1990, and homesteaded on the property (in what is now the ski cabin!) for 8 years, formulating their vision. Granted, it was not always a perfect process, but here you are, relaxing, dining, and enjoying yourself in the dream of two love struck people who share a love for nature.
We hope you enjoy it as much as we do.
The Lodge
We began with spruce and fir logs, but the rest is built from sheer passion, unyielding vision, and deliberate consideration of every detail. For example, the bridge that crosses the headwaters of the Savage River, a recycled military bridge, was purchased three years before permitting was approved for its installation! Construction plans were drawn up with an architect from Oregon and an interior designer from Hagerstown, MD in 1998.
Cabin Fever
More than the Lodge, the cabins are what put us on the map with our first guests in October 1999. All eighteen "mini" lodges were built here, handcrafted from white pine, meticulously stained and lovingly constructed. These sturdy structures harken back to first generation home building by settlers. Interlocking timbers and authentic chinking inspire quiet introspection and thoughtfulness of our relationship with the surroundings, and of those who tread these paths long before us.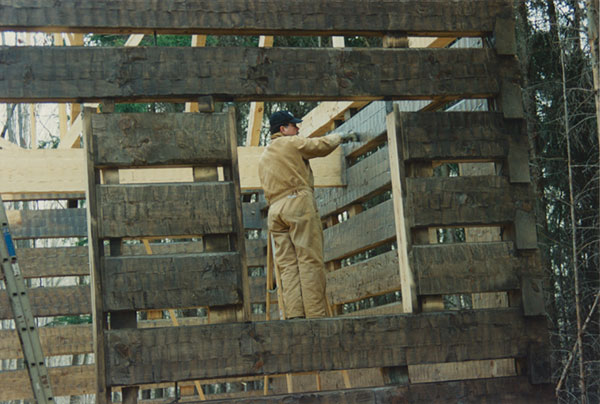 A Permanent Home for Nomadic Yurts
Since 1978, Pacific Yurts has pioneered yurt design and construction, reinventing the traditional form to have it down to a science while maintaining exceptional quality. Immediately after meeting with them at their headquarters in Cottage Grove, Oregon, Mike knew he had found a partner to provide another unique lodging category at SRL.
Blending the tradition and nostalgia of tent camping with the creature comforts that our cabins are known for, our yurts are the best of both worlds and provide a truly one-of-a-kind experience. Sought after at grand resorts in the Rockies and along the west coast, we are proud to offer the most luxurious yurts east of the Mississippi, equipped with amenities like radiant floor heat, gas fireplaces, full bathrooms, and a distinctive Lodge touch.
The kits were delivered in August 2013, and assembled on site to welcome the first guests in May 2014.